Its around a 2.5 hour drive from Ao Nang to Patong, Phuket.  Patong has a completely different vibe, more like a big commercialised beach resort.
Holiday Inn, Patong Beach
The Holiday Inn was also completely different to Red Ginger, being a much bigger complex with long carpeted corridors.  Our room on the 6th floor was about as far away from the pool and restaurant complex as could be.  Though we didn't mind and having guard on hand to call a lift for you was nice.
We enjoyed the Holiday Inn and its prime position on the beach and only a few minutes walk from Bang La and the centre of town.
Many of the Tripadvisor review recommend the Busakorn Wing and whilst this did look impressive, it was very quiet and somewhat lacking in atmosphere. We were quite happy staying around the main pool when not on the beach.
The breakfast selection was amazing with a wide range of choices including freshly baked pastries.  A super selection to start the day.
Patong Beach
An excellent long sandy beach with plenty of options for shade, bars and a massage. The Bikini bar in the centre of the beach slightly raised above the beach was a great place to view the beach and watch the sun go down.
Patong sites and eating
The famous Bang La road had a great vibe with the only downside the frequent offers of timeshare, suits or notorious ping-pong shows.  Numerous bars to watch the action and the ladyboys.  Not our scene but great atmosphere.
Karon beach
400bht from Patong in a tuk-tuk, we couldn't manage to negotiate lower but for both trips managed to find others in a similar position haggling so shared the cost.  Its about 10 minutes by Tuk Tuk to the long, sandy beach.  Less busy and manic with the shops separated from the beach by a road and gulley. We would probably stay here if we returned to Phuket.
We had a nice meal at the south end of Karon beach. Unfortunately having been on the beach we weren't dressed for the On The Rocks restaurant, but found a great place further down by the beach next to the dive centre.
Coral Island
We really missed the exotic beaches of Krabi and so booked a day trip to Coral Island.  Whilst the island certainly lived up to Poda and Phra Nang the long minibus ride and packed speedboat from Chalong pier made it a less enjoyable journey, you can't beat a longtail.
Elephant Safari
We booked Siam Safari through the hotel.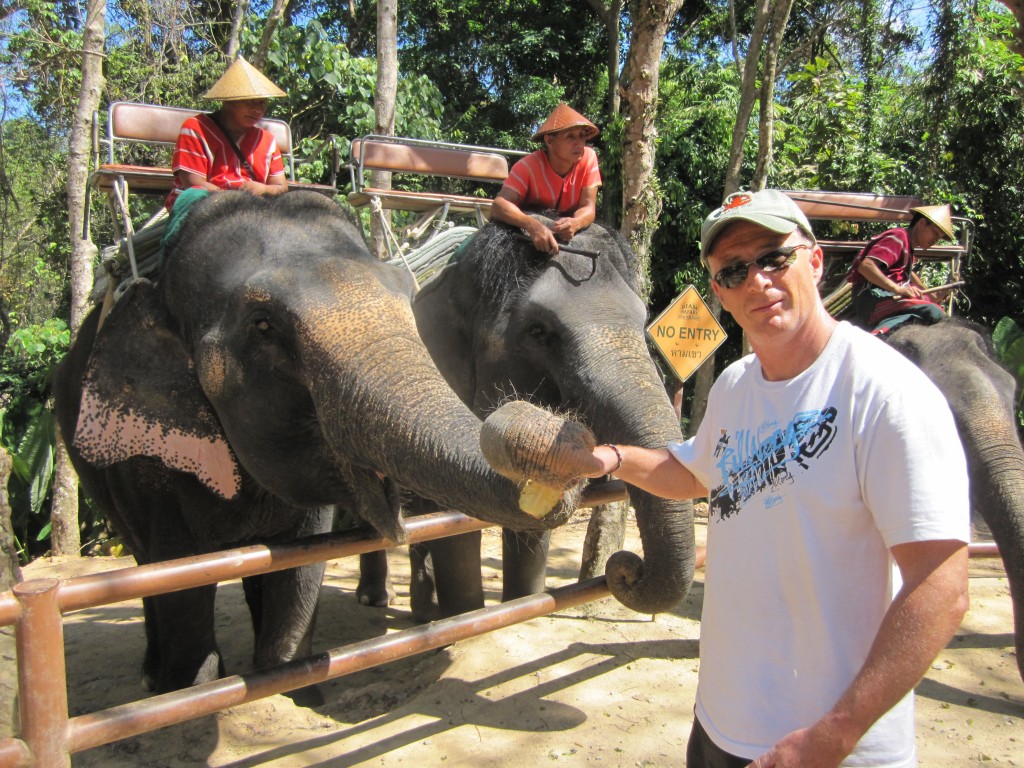 I hope you enjoyed this diary. If you did please let me know.