This was the favourite location on our three centre Thailand holiday organised by Experience Travel.
It's about a one hour flight from Bangkok, Suvarnabhumi airport south to Krabi, followed by a 30 minute taxi ride to Ao Nang.  Although we loved Bangkok, it was great to escape the busy city.
Ao Nang
Ao Nang town has two beautiful beaches. Nopparat Thara to the north west is a much quieter beach with only a few hotels along the road and a group of excellent bars/restaurants clustered at the east end of the beach.
A promontory separates Nopparat beach from Ao Nang beach, though it's only an easy 10 minute walk over the small hill connecting the two.  Plenty of shops, restaurants and market stalls on the way.  Look out for the 250baht all-you-can eat buffet for good value food.
Ao Nang is a much busier beach with numerous shops and restaurants on the main road.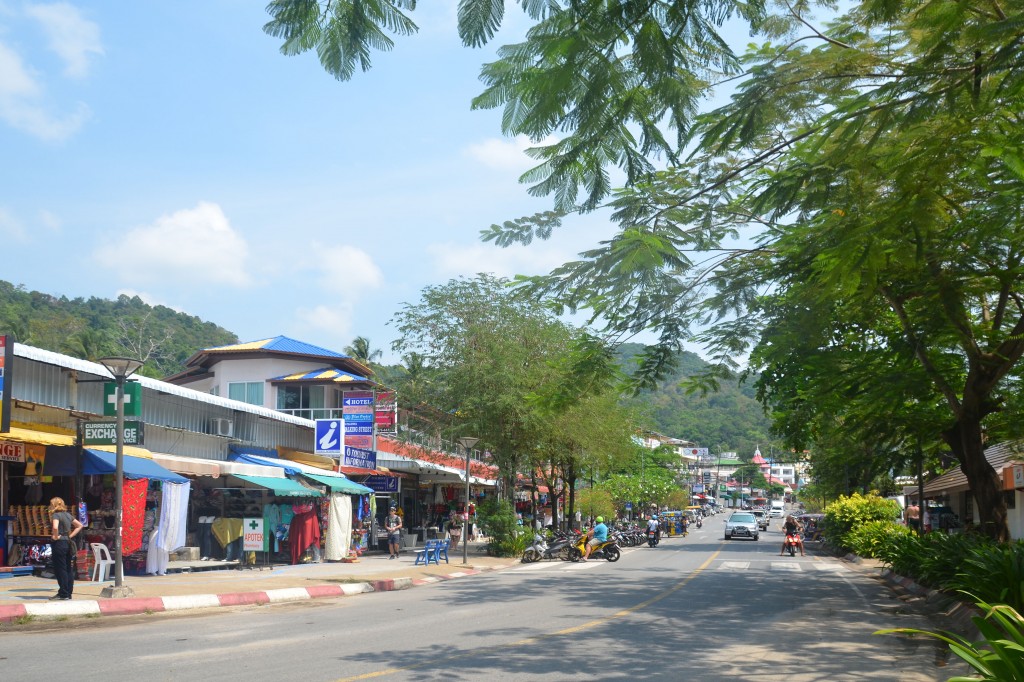 Ao Nang appears to be gradually becoming more commercialised – Starbucks, Macdonalds and the normal mass-market chains have moved in. Eventually Ao Nang may end up a tourist resort like Patong and risk losing its special appeal. For now it's character offers a perfect balance of modern facilities (cash machines, etc) and more authentic Thai culture.
Taxis and tuk-tuks are available everywhere and a 40baht tuk-tuk fare will get you quickly from one end of the town to the other.
Most of the longtails to Railay, Phra Nang and Poda leave from the western end of Ao Nang beach. Simply buy tickets at the booth on the corner.
 Red Ginger Chic Resort

The resort is situated just off the main road and in between Nopparat Thara and Ao Nang beach.  Its only 5 minute walk to Nopparat and the bars/restaurants, 10 minutes from Ao Nang beach.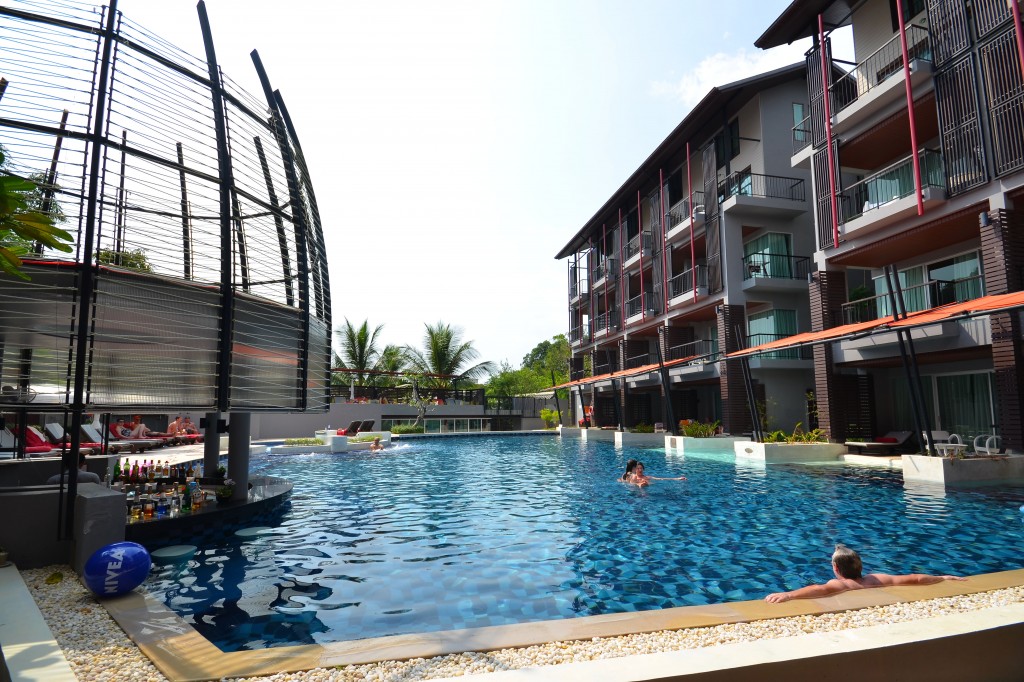 Note: as of March 2012 Red Ginger and the other resort complexes close by do not show up on Google maps, making the exact location difficult to ascertain.  This map shows the resorts exact location.
The Red Ginger resort was recommended by Experience Travel and appeared to be a destination focusing mainly on guests from northern Europe and Scandinavia.  We didn't come across many from the UK during our stay.
The hotel has around 64 rooms and an excellent pool including swim up bar.  Some of the ground floor rooms have direct access to the pool.  Breakfast is on the upper floor overlooking the pool and provides an excellent selection of continental as well as more authentic Thai dishes.
Red Ginger is in an excellent position to explore Ao Nang, though located at the quieter end of town.  Our only minor criticism of the hotel facilities was the very limited storage in the rooms, which meant you had to live out of the suitcases.  A minor drawback though, otherwise the rooms were excellent, clean, air-conditioned and very comfortable.
The beaches
The range of beaches on offer at Ao Nang must make it one of the top holiday destinations in Thailand.  And its not just the sandy beaches, but the imposing limestone cliffs that bookmark and tower over the beaches.
Ao Nang
The main beach at Ao Nang offers plentiful options for renting parasols, chairs, refreshments and massages. There is also a colony of monkeys at the north east end close to the Centara resort.  The sea was less inviting than other beaches, probably due to the large number of longtails constantly moving in and out.
There is a steep path on wooden steps over to the more remote Centara resort.  This pathway is only for the energetic and certainly not recommended after a few beers.  As we were short of time, we turned back halfway.
Railay beach
Railay can only be reached by sea.  Numerous longtails sail from Ao Nang and Nopparat beaches and you can simply buy a return ticket from the booth on either beach.  Note that more longtails sail from Ao Nang and even if you catch the boat from Nopparat then on the return trip you may get dropped off at Ao Nang beach as its closer.
At low tide it is fair wade out to the longtail on Nopparat, not really suitable for youngsters, pushchairs or if you are heavily loaded.  In all, the short walk over the hill to Ao Nang is the better option.
Longtails generally land at Railay West. There are a number of resorts close to the beach (its entertaining watching guests arriving unloading large suitcases from a longtail).  Bars and a few shops are gathered around Walking Street.
A five minute walk along Walking Street (it's just a footpath though, hardly a "street") through the hotels lead to Railay East, an attractive beach with mangroves, but far less expanse of sand (and more like mud when the tide is out).
This beach is much quieter and almost deserted, although the southern end is popular spot for climbing. Most people you encounter are on their way to/from Phra Nang.

Phra Nang
Phra Nang can be reached direct by longtail, or by following the path from the south end of Railay East beach under the impressive limestone cliffs.  There were numerous climbers ascending the limestone cliffs both here and at Railay East.
This is a truly beautiful beach for swimming, sunbathing (it faces south), climbing or even feeding the monkeys.
The beach has limited shade from the fierce Thailand sun, though it is relatively easy to drift back to Railay to find shade under the limestone cliffs.
We would highly recommend both the food and beer from the beach longtails.  This is a great location for cold beer and beautiful Thai food served on a wonderful beach.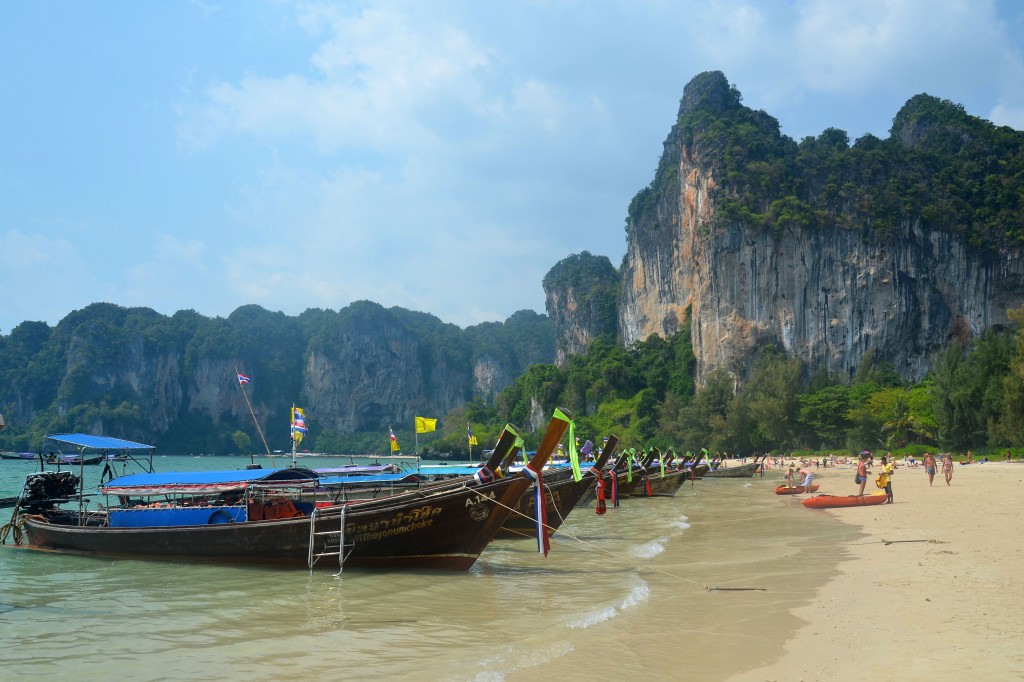 Poda Island
Poda island was our personal holiday highlight and our favourite beach on our Thailand holiday.  The island is around 20 minutes by longtail from Ao Nang beach.  You can buy tickets from the same booth selling tickets to Railay.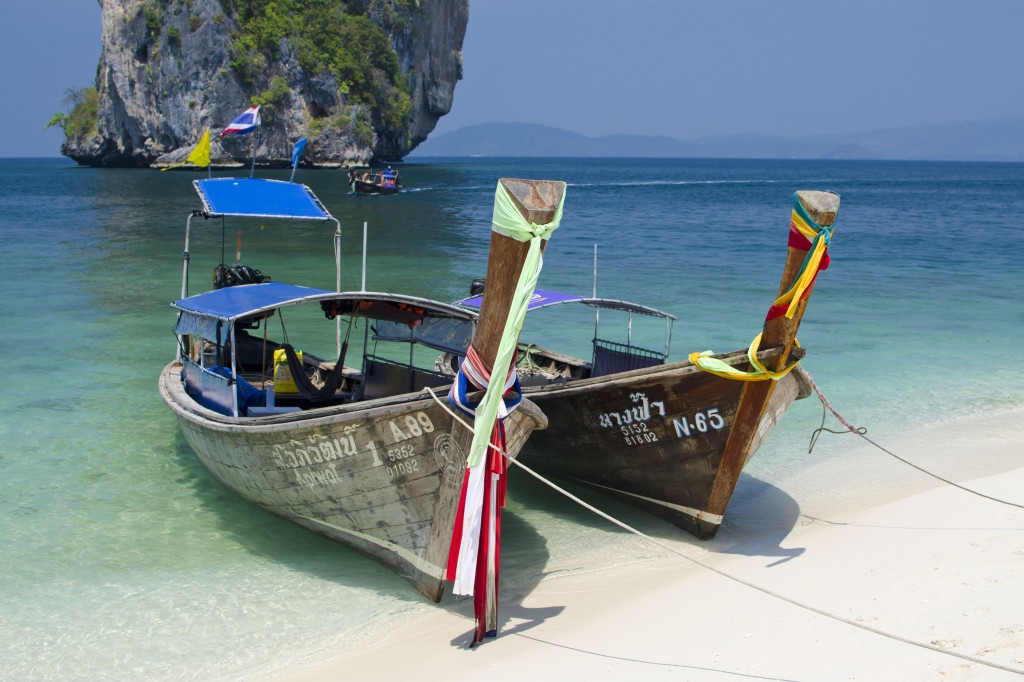 Poda has a beautiful beach with prominent limestone cliffs similar to Railay and Phra Nang.
But as well as a beautiful beach and stunning limestone scenery, Poda comes closer to the desert island vibe. As long as the tide is not fully in you can walk most of the way around the island (walking clockwise). Its almost deserted, with views over to Chicken Island.
Remember to take bananas or bread to feed the fish (you can also buy bread at the beach bar).  Or try feeding the monkeys at one end of the beach.  Quite a few visitors were swimming out to pass bananas to the monkeys.
We never found time to visit Chicken Island or islands further afield such as Phi Phi.  Maybe next time.
Next our final stop – Patong Beach, Phuket.
I hope you enjoyed this diary. If you did please let me know.